◆Background
The Science for RE-designing Science, Technology Innovation Policy (SciREX) program was established in 2011, with its HUB at the National Graduate Institute for Policy Studies (GRIPS) and Core Centers at the University of Tokyo, Hitotsubashi University, Osaka/Kyoto universities, and Kyushu University. Since then the program has since been promoting international standard research and training. It provides training in evidence-based policymaking for individuals who will lead the new research area of Science for Science, Technology and Innovation (STI) Policy; connect policy and research; and promote basic research in relevant fields. One of the program's key activities is the annual Summer Camp where faculty members and students from SciREX member universities gather to share each university's SciREX exercises, discuss the topic of the year, present the results of that discussion, and exchange information across a variety of academic fields. In 2022, Summer Camp will be held IN PERSON, as detailed below.

◆Summer Camp 2022 Theme: "Policy Making with Consideration of Diverse Values."
Developments in information technology, globalization, increasingly aged society, and energy issues are challenging every society. We are now working to respond to major innovations and challenges that could change our way of lives. Policies that address these issues may have a major impact on people's lifestyles, and it is becoming increasingly important that policymakers earn the trust and understanding of the public. The theme this year is a practical examination of means of formulating and implementing policies based on scientific evidence, while at the same time effectively communicating with stakeholders who have different values, viewpoints, and ways of thinking.

◆General Information

Date: September 2 (Fri)-4 (Sun), 2022
*Pre-training will be conducted online during August
Venue: National Graduate Institute for Policy Studies *Important: We will switch to online implementation if the spread of the infection grows to a hazardous level.

Sponsors: Research and Development Bureau Research and Development Strategy Division, Science and Technology Policy Bureau, Ministry of Education, Culture, Sports, Science and Technology(MEXT), SciREX Core Centers, SciREX Center

Planning and Management: SciREX Summer Camp 2022 Committee/CSTIPS @Kyushu University/SciREX Center and GiST @GRIPS

Participation Fee: Free (Travel and lodging expenses will be covered for program participants, if you are enrolled in the STIG program: Register at STIG program at any time!)

Language:
-[Orientation, group work, and interim & final presentations]
Simultaneous interpretation between Japanese and English will be provided.
-[Group Work]
There will be (1) Japanese language groups and (2) English language groups. A translation service between English and Japanese will be provided during interviews. *Applicants are asked to specify on the application form whether it is possible for them to join discussions in English. That information will be used for forming the groups.

Application: Students and faculty wishing to participate must submit the application form by Friday, 15 July 2022. Please indicate your preferred group theme, giving first, second and third choices.


Click here for your application!


The organising committee will try to organize a group based on your request, but please note that we may not be able to meet your request. Personal information such as e-mail addresses will be used to send you information about the summer camp and to contact you during the summer camp period. Please note that the information will be handled by the organising school, GRIPS, the joint organizing school, Kyushu University, and the Summer Camp Executive Committee.

◆Time Table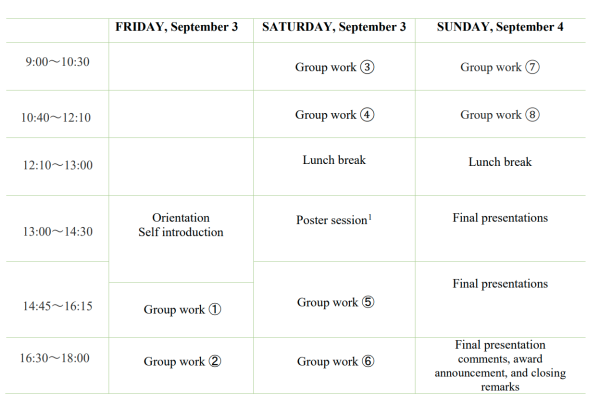 Regardless of the time slot, we ask that you take breaks and eat or drink as appropriate during the exhibition.

◆Themes for group work
When you complete your form for this summer camp, please select 3 themes from the following 10 (for Japanese speakers) + 3 (for English speakers) that you are interested in.
However, we will consider the content, scope, and discussion points of the themes based on the responses to the questionnaire responses that we receive as we recruit participants in the future. Please understand that the text below is an introduction to the outer edges of the themes and is not necessarily limited to the scope of this description, since discussion among the members will contribute.

1.Space Policy
Theme 1: Space technologies for the benefits of developing countries. What are the contributions of space technologies in ensuring sustainable development? Based on past successful examples, how to set up a domestic space program adapted to the realities of a developing country, rather than copying unadapted policies and practices adopted by leading space powers? Students would be provided with the cases of two or three countries and would be asked to propose a national space policy and a space development roadmap. In order to inform their decisions, they would be provided with detailed materials about past examples of more or less successful space programs in developing countries, to extract good and bad lessons (e.g. Indonesia, Vietnam, Chile, Philippines). Theme 2: Overcoming our societies' over-reliance on space technologies. Space technologies are now tightly woven into the fabric of our societies and sustain most of critical national infrastructure. Any voluntary or involuntary disruption of the space infrastructure would lead to the collapse of financial, communication and transportation systems within hours, prompting the development of policies for space mission assurance. Students would be asked to assess our reliance on the space infrastructure, identify major areas of vulnerabilities and proposes policies to address them.
2.Citizen participation concept in policy making process
We are now facing significant challenges in STI policy. One of the most crucial points is knowing the actual policy making process and its problems in formulation and implementation. The policy making process is complex and challenging to understand by the actor outside the policy process. So if we can understand the process from the government's point of view and analyze the problem, it will be one of the best ways to improve the policy process. Moreover, participation from citizens, people, or the social sector should be discussed more, for example, open or social innovation, to prepare for the different values in the current world. From two themes, both could be studied together as the actors in the policy making process. The discussion would be about their current role in the policy making process or how to improve their role in the policy making process.
3.Environmental Ethics
Commercial whaling is vital to the Japanese economy, but many catches have been made unsustainable for a long time, making whales endangered. Japan stopped commercial whaling after intense pressure from many countries, particularly the United States. The government altered its policy to increase the rights and acceptance of the program. It asked the global organization for permission to catch for research. The government attempted to send the message that it was working on studies for sustainable catching to return the commercial whaling. Japan changed its policy to stop many nuclear stations after the Fukushima accident and replace them with fossil fuels due to society's decision. The topic will explore other views about issues of an atomic system for achieving environmental ethics. Japan's forestry and timber trade policy showed the country's focus on economic sustainability against environmental ethics. These three examples showed that the Japanese government tried to follow the environmental ethics roles and convinced the public opinion about their ability to achieve that. These three cases show that Japan still needs to focus on its issues and limitations to follow the global environmental ethics.
1.高齢者支援の将来像とライフスタイルの変化
(this theme is for Japanese speakers)
日本は2025年から2040年の15年間に現役人口(20歳ー64歳)が約1,000万人減少する一方で、2054年までに75歳以上人口が2,449万人まで増加すると推定されている。「超々高齢化社会」という未知の領域に突入しており、特に地方ではその端緒が顕在している。人口減少・少子高齢化の課題先進国として、日本はこの変化・問題をどう乗り切っていくべきか。労働人口の減少や財政・社会保障の基盤喪失等の問題に、サイエンス・テクノロジー・イノベーションをいかに活用するべきかを議論する。
2.多様な価値観に基づく脱炭素社会の実現
(this theme is for Japanese speakers)
2020年10月、日本政府は2050年までに温室効果ガスの排出を全体としてゼロにするカーボンニュートラルを目指すことを宣言した。さらに2022年4月ニューヨークで行われた気候変動に関する政府間パネル(IPCC)第3作業部会報告書の発表に寄せて、国連事務総長が環境問題に関し深刻な危機感を表明して世界へ警鐘を鳴らした。国連IPCC報告書等のデータを読み解きながら温暖化の最大要因を確認し、ステークホルダー毎の認識の差異も踏まえて政策による改善案を検討する。
3.多様な価値観に配慮したエネルギー戦略
(this theme is for Japanese speakers)
一次エネルギーの9割以上を他国からの輸入に依存している我が国では、今日の社会情勢の影響を受け、生活に関わる電気・ガソリン代は高騰を続ける。また、大半の原発が稼働を停止しており、再生可能エネルギーも主力のエネルギーとなるまでに至っておらず、電力不足問題も深刻になっている。持続可能性・環境への配慮・地域への影響・経済等多様な観点からエネルギー問題の解決策を検討する。
4.起業・スタートアップが変える、未来社会
(this theme is for Japanese speakers)
個々の人、そして人が抱くビジョン、そして技術、資源。様々なリソースが新たに結合・融合することで誕生する新事業。新事業を社会へ展開するスタートアップは、これまでにも数数多の社会問題解決に寄与し、社会を変革してきた。昨今の日本では地方における地域活性化や多様性等のイシューとも関わりが深い。では、スタートアップがもたらす社会的インパクトをどのように捉え、いかに推進するべきか。推進にあたりどのような課題があるか。新興企業育成政策のあり方とはいかなるものか。新事業とこの主体となるスタートアップ、そして社会との関わりについて議論する。
5.データ利活用とその社会受容
(this theme is for Japanese speakers)
データの利活用は私たちの生活の利便性を高めることが期待される一方、監視社会・社会の分断等マイナスの側面も指摘されている。データの利活用に関し、例えば2025年に大阪で開催が予定されている2025年日本国際博覧会でも、データ利活用の原則やガイドラインの策定が進められている。データ利活用を巡る状況やルールは進化し続けており、3年後かつグローバルな参加者を相手とする万博は、データ利活用の未来を考察する1つの題材となりうる。そこで、以下の問いについて議論する。
・多様なステークホルダーの意見をどのように反映させるべきか
・多様な価値観をもつ人々の意見をどのように反映させるべきか
・マイノリティの意見を汲み上げ、全体の意見に反映させることはできるか
6.Well-being向上のためのSTI政策
(this theme is for Japanese speakers)
第6期科学技術・イノベーション基本計画では「一人ひとりが多様な幸せ(well-being)を実現できる社会」としてのSociety5.0の実現が目標とされている。well-beingは地方、ジェンダー、LGBTQ、難民移民、障がい、高齢者、途上国などあらゆる面で取り残されがちな人々を含めた幅広い概念である。well-beingが実現できた状態をどのように計測・評価するか、well-beingを向上させる政策とは何か、教育・地域・経済等の多様な観点から議論を行う。
7.多様な活躍を支える高度人材育成のあり方
(this theme is for Japanese speakers)
イノベーション人材の育成を目的として、近年では博士課程の学生を増やすための政策が進められている。博士人材はアカデミアだけでなく、民間企業や官庁など社会の様々な機関で活躍することが求められているが、ポストが限定的であるのが実情である。高度な知識・技術をもつ博士人材が活躍し、社会に価値をもたらすために必要な政策的支援について提案を行う。
8.次の感染症に備えるための医療システム
(this theme is for Japanese speakers)
新型コロナウィルス(COVID-19)は緊急時における医療体制・ワクチン確保・国民への行動規制・経済活動への配慮等さまざまな問題点を浮き彫りにした。日本の医療システムの実情と新型コロナウィルスへの対応を確認した上で、将来新たな感染症が発生したときに備えて医療システムの問題点を検討し、改善に向けて必要な政策について検討する。
9.健康長寿社会実現のための再生医療の在り方
(this theme is for Japanese speakers)
高齢化が進む日本において、事故や病気等で損傷した組織・臓器を再生させる医療に注目が集まっている。well-beingの観点からも関心の高い技術であるが、ヒトの細胞を加工する以上、研究や検証、社会実装に際して医療倫理における問題をはらんでいる。再生医療に関する現状と課題を確認し、医療倫理面に配慮した政策提案の議論を行う。
10.多様性社会のための教育と生涯学習社会の実現
(this theme is for Japanese speakers)
現在、多様な価値観・AIやデータサイエンス等の先端技術に対するリテラシー・グローバルなコミュニケーション等に対応するための教育機会が提供されつつある。今後、多様な社会問題に対応しイノベーションを創出して、well-beingを実現していくために望ましい教育(幼児・初等・中等・高等・生涯学習)体制について議論を行う。
以上